Above: Such a beautiful bride!!
The image(s) of I-15 in the snow storm fills the bill for 3 entries!! ;D
This week's challenge: BLUES
The road image below fits both of these themes. :D
This Week's Theme: WOW!
The series I am presenting is in response to
Ashley Sisk
@
Ramblings and Photos
I'm sure you ALL know Ashley! She guest posts and judges...
She's a very supportive commenter and inspirational blogger!
If you aren't familiar with her, she is a MUST CHECK OUT!!
This is the entry for WOW!
We were amazed at how the snow was blowing
across the surface of the freeway!
This was taken on I-15 as we were driving home (to UT from ID).
Visibility and road conditions were horrible!
If you look close enough, there is an emergency vehicle centered
and a car that is WAY off the road on the right third.
*************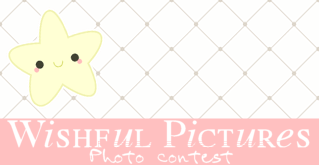 This week's theme: TONGUES
Yeah... He looks so little!!
He's... ummmm... CHUBBY, now... ;p
I always LOVED this shot because of that tongue!!
I HAD to submit it!! ;D
***********
This week's theme: NATURE