I know, I'm sorry... I'm kind of MIA this week. Life's been crazy and other things have been priority.
May be out of it for a bit, but I'll jump in here when I get the chance...
(or waiting for steps to save in PS!! LOL!!)
Theme this week: Laughter
The theme here being laughter, I couldn't resist throwing this 8 sec clip in of hubby making Vincent GIGGLE!
Theme this week: Work and Play
I guess the top photo can also apply here.
That is child #2 poking #s 3 & 4
That was definitely PLAYING!! HAH!! ;p
But I had to add THIS! ;D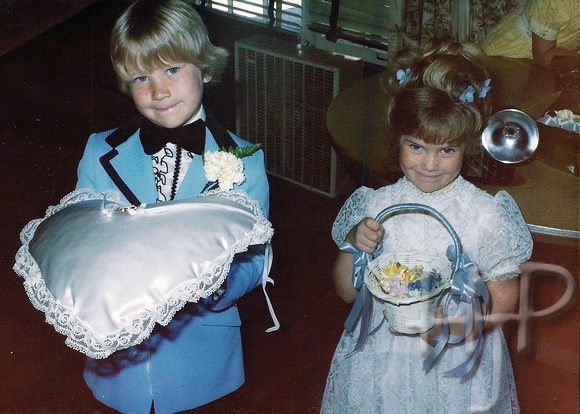 I, too am going into the history files of my childhood. On this day I worked and played! LOL!!
I was on the OTHER side of the camera for this wedding!! I was 4, my brother was 6.
We were the flower girl and ring bearer for my dad's best friends' daughter.
This was also my first public singing event. The band backed me up singing Apple Blossom Time!
SO.... Does this pic say 70s, or WHAT??? ;p
****************
I know you all just saw this, but it applies here and
I didn't have time to do another. Sorry... ((HUGS))
Theme: YELLOW
Remember:
Straight out of the camera shots ONLY.
Before:
After:
****************
Theme: Kids
GRANDKIDS to be EXACT for this image. :D
Ain't they CUTE?? Thes 2 are child #5's
*******************
This is one I shot and created into a postcard photo invitation.
This was the back, the front was color and they did use envelopes. ;D
I blurred out the lettering for their privacy. Just thought I'd share.